Settle in. This post is a DEEP DIVE. One of those long detailed dissection/reflection posts that feels like the blogging days of yore. So if you love those & wanna grab a cup of coffee and go on a little journey with us – today's the day. We're about to dive into:
Tips and insights we gleaned about downsizing over the last few years
What items from our larger home came with us & worked
WHY we think that is
What we learned in hindsight about packing for a move
This whole post idea came to us when we were in our downstairs sitting area recently and we realized that a lot of the furniture hadn't moved with us from our previous house in Richmond. The loveseat, the chairs, and the coffee table were all purchased after we moved here to fit precisely into this new smaller sitting area that we slowly figured out over time.
Conversely, things like the rug, the tray, the vase, the planter, all of the art, and a nearby bookcase were from our last home. So it made us wonder: how much of our old furniture & decor still exists in year three of our downsized house? What do we still love so much – a lot of which we've had for over a decade? And why did some things have a better shot at staying forever in our smaller home while others didn't serve us as well as we hoped?
We wish we could have put only what would fit perfectly in our new house into that 16′ pod that we moved all of our worldly possessions in – but downsizing doesn't come with a crystal ball. We certainly had measurements of rooms and did some pre-planning but nothing really compares to landing in a new space and trying a few layouts to see what feels best in person.
There's also nothing inherently wrong with getting new things that fit the size or shape or needs of a new house – especially if you're sizing way down and need to squeeze in as much function as you can (we went from 3150 square feet & 14 rooms to 1400 square feet and 6 rooms (only 1 of which is a bathroom). That's exactly why we sold half of our last house's furniture with the house – because we knew it all wouldn't fit, so we made our best guesses about what might move with us and work when we landed (even if some items landed and worked for a bit and then were craigslisted or donated for "the actual long-term solution").
This is our last house's bonus room, almost all of which was purchased by the new owners (except for the pedestal table, which we tried as an eat-in kitchen table for a while at our new house). You can see a full tour of what items we sold to the new owners, including side-by-side photos of rooms before and after we packed them up.
Downsizing feels like a mix of surrounding yourself with things that make you *THE MOST* happy and work *AS WELL AS THEY CAN* for you (and gleefully getting rid of all the rest!) – but the result is definitely going to look different for everyone.
We made our own "this is coming with us" selections based on:
Measurements (some things just plain wouldn't fit)
Previous experience (did we use it in our last house? if not- bye!)
Educated guesses (again, there's no crystal ball)
Functional considerations (would this rug trap 6 pounds of sand in a beach house?)
Good old-fashioned gut feelings ("I feel like I won't miss this" or "I'll regret not having this").
Emotional attachment to sentimental items (we treasure meaningful things, even in a smaller home)
There isn't an easy A + B = C equation I can share, but that's how we evaluated things going into the big blue pod outside. And looking back on what lasted through this big transition a few years later has been pretty illuminating (let's just say a lot of lessons are "very visible" in hindsight – so we'll share those with you after sharing what stayed.
I'll kick this off with one more tidbit of advice that works for literally any homeowner, whether you're moving into a mansion or a one-room studio: be open to letting your new home evolve. Just like all of the houses we chronicled before it, our downsized home definitely took shape over time. Trial and error, and seeing how you actually use a space, definitely leads to the very best outcome in our experience. I mean, this is what our sitting area looked like when we first landed. It was absolutely bananas.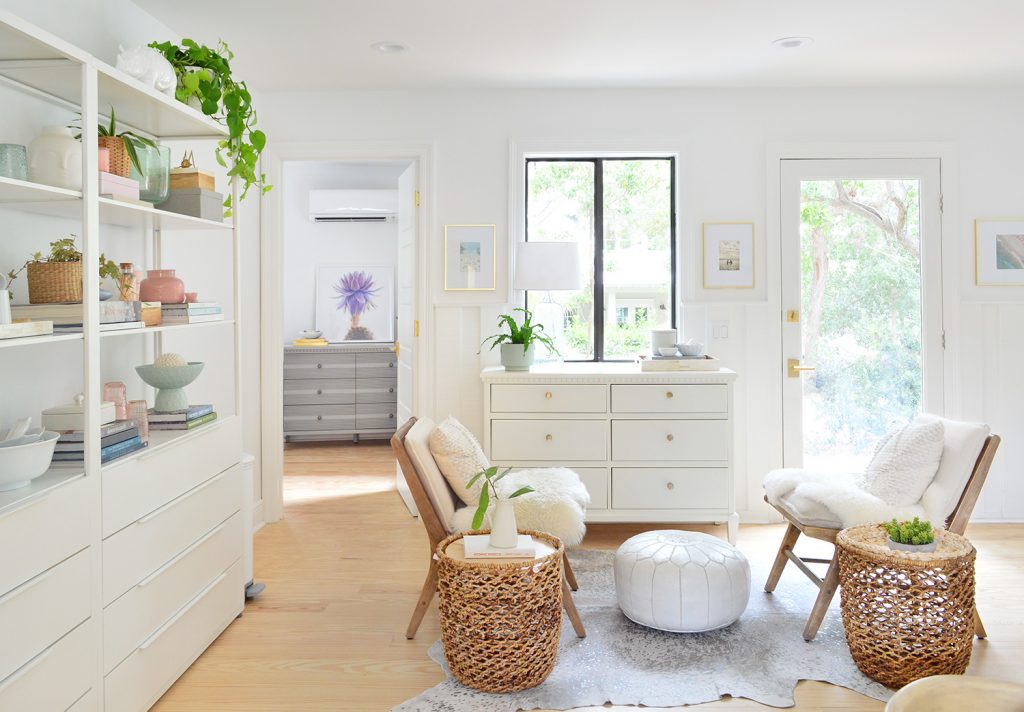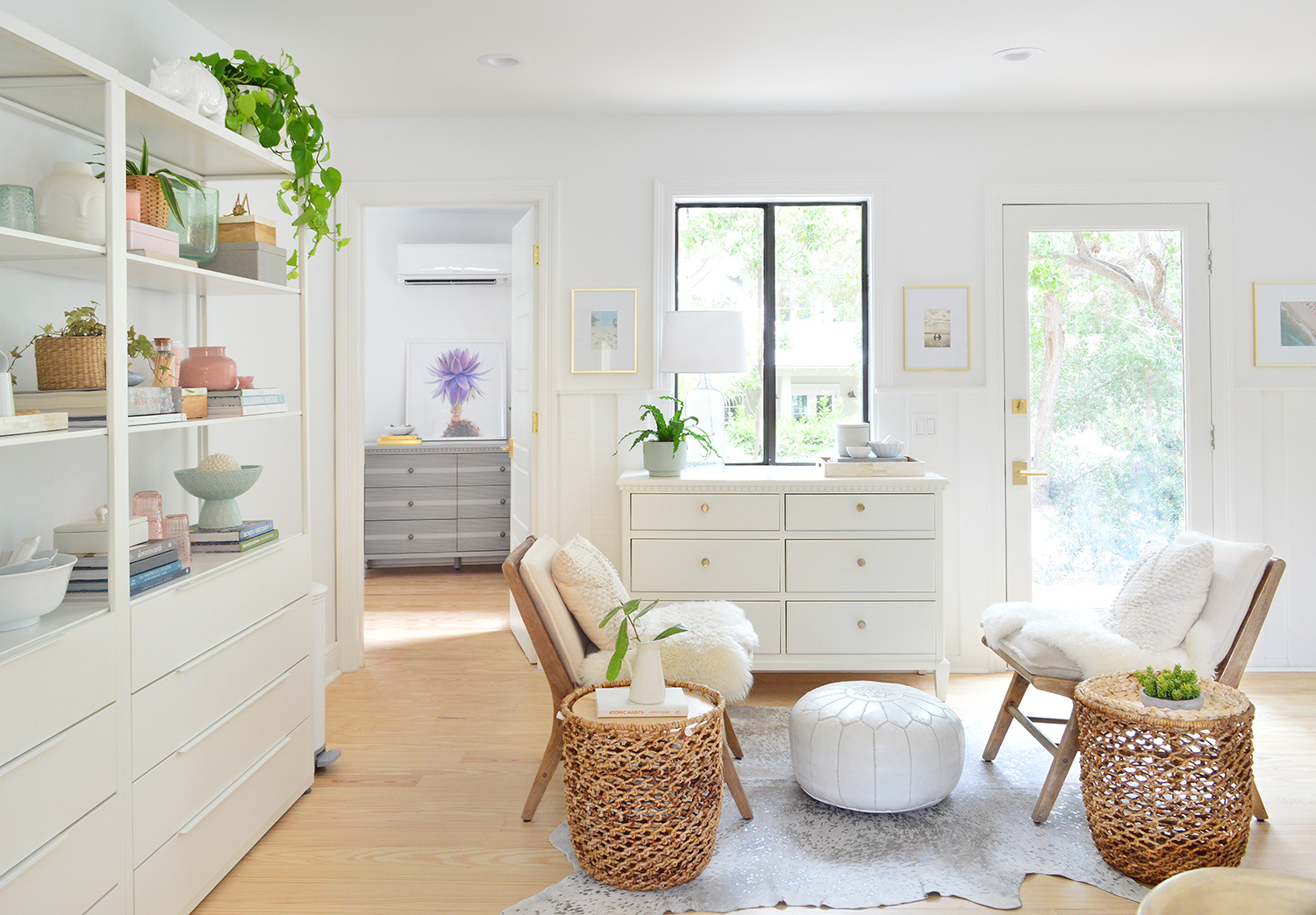 That picture makes us laugh so hard in hindsight, but man, we were just trying things and using what we had while we learned how we'd actually use this space and inched towards something that might work better… which I'm pleased to say eventually happened.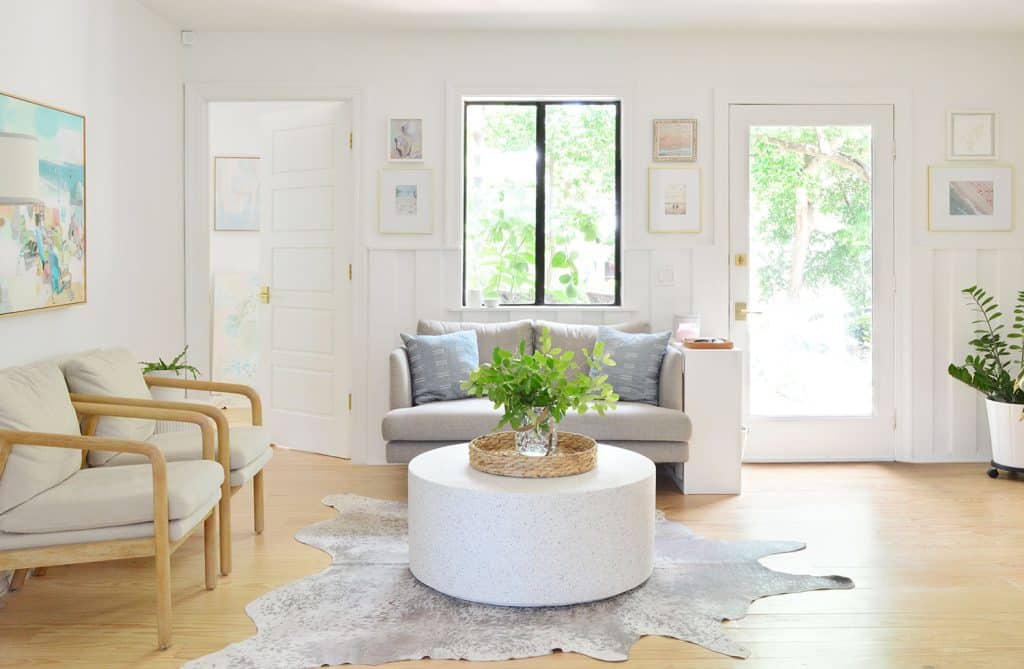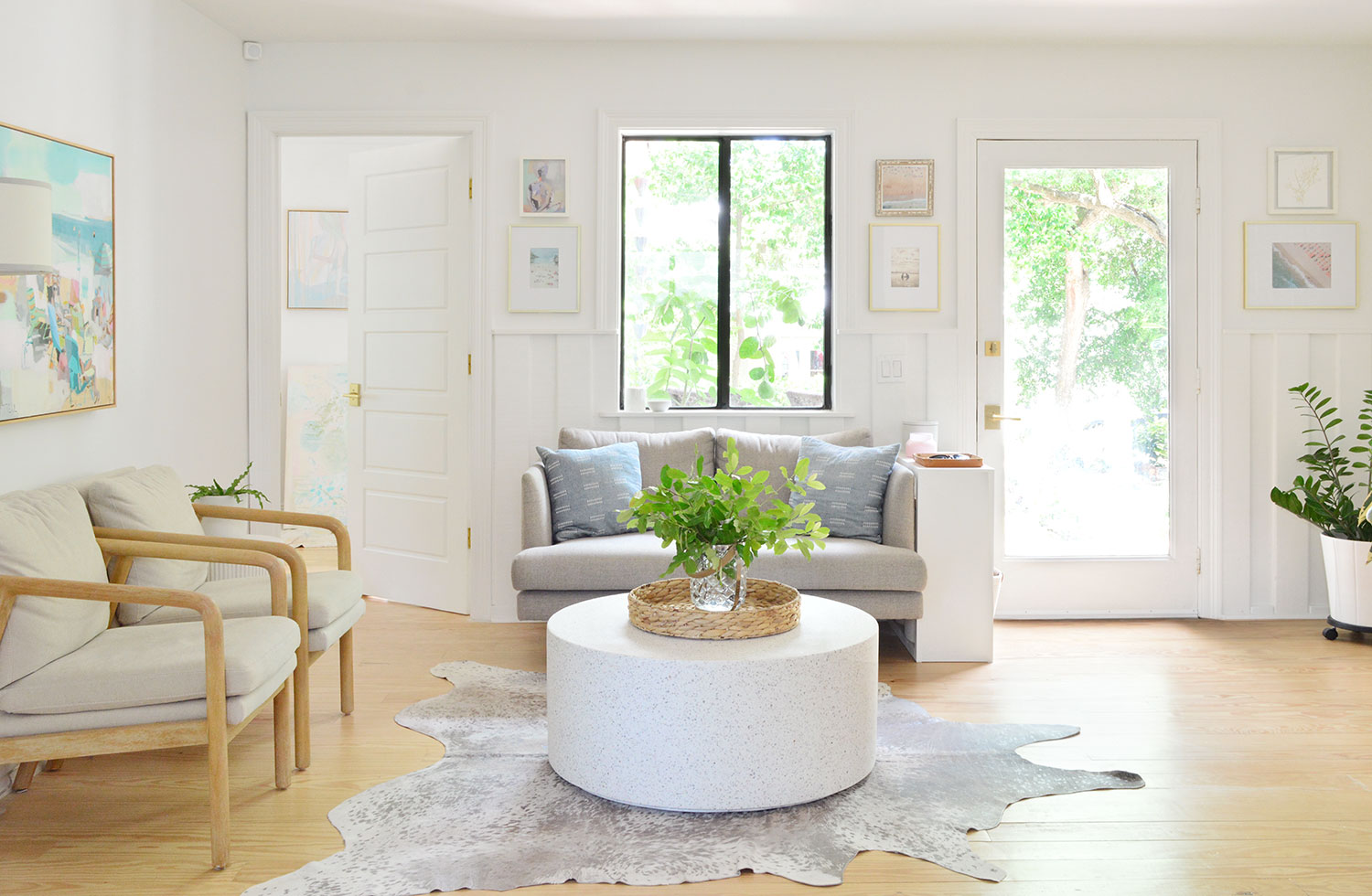 So yes, items came in, and they did the hokey pokey, and they moved all around. Like the bookcases that you see in the bananas photo above this one, which went upstairs where they fit like they were made for that wall (*insert the angels singing sound and praise hands here*).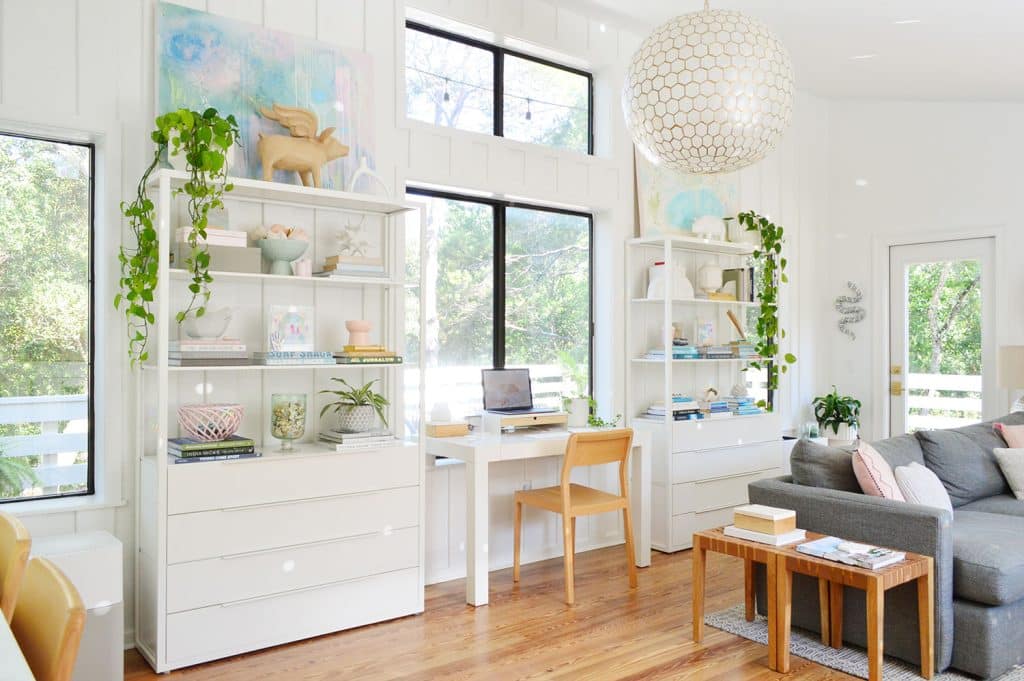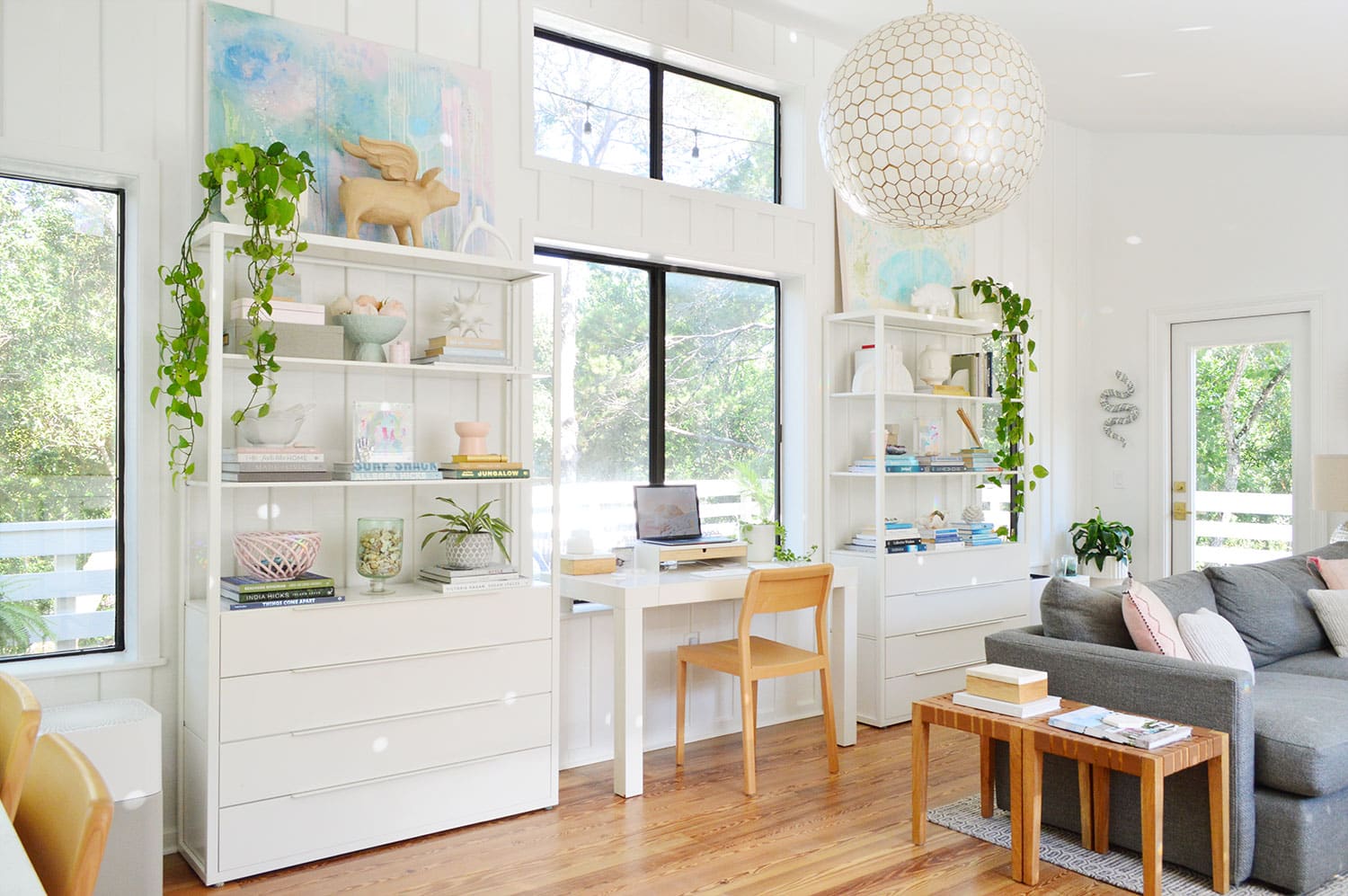 Some things found a better spot for the long haul. And some moved listlessly from room to room until we faced the music that they weren't serving us as well as some other items in a better size or shape could (so they got donated or Facebook Marketplaced).
Like the white and gray 6-drawer dressers you also see in that bananas photo that we're revisiting above. We realized the only dressers we kept are all narrower 3-drawer ones. Go figure that they fit better and make the most of the space in a smaller house (and can double as a nightstand, like the dressers in our daughter's room below).
What we've definitely found to be true is that new spaces – especially smaller ones – may require specific types or sizes of furniture that may not have worked in your old home. The loveseat in our sitting room is a great example.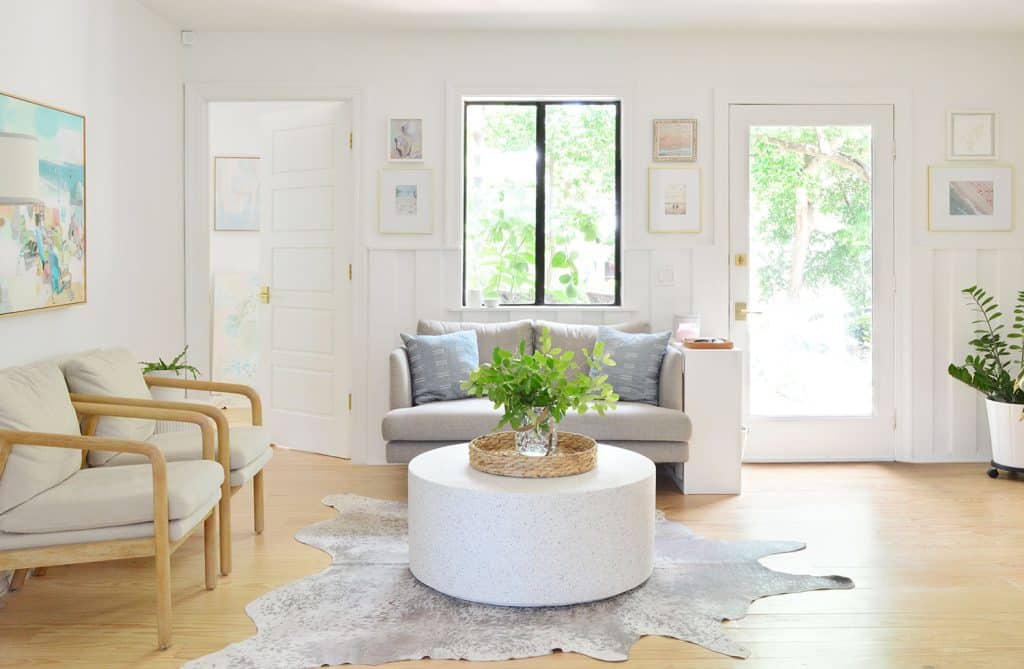 We never needed one before (our last house easily fit two generously sized sofas), so we left the biggest one behind knowing it wouldn't fit in our new downstairs hangout area – and the other one came with us and lives on upstairs in the family room. Speaking of which…
The Upstairs Family Room
Had we been sitting upstairs instead on the day we had the "our kitchen sure has a lot of new furniture" feeling, we would have had the absolute opposite reaction, because our family room is FILLED with stuff from our last home. Literally almost every single furniture item in here is from our last house.
But upon further reflection, we realized maybe that shouldn't have surprised us as much as it did. Our upstairs family room is the largest living space in this house – so, naturally, it can fit more items from our larger home. No wonder it was a lot less of a challenge than our small sitting area downstairs, which needed some customized things over time to "come together" (psst: that's normal, don't let anyone tell you that upon moving into a new place you have to have it all figured out in the first month or even the first year).
The funny part is that this room basically absorbed the function of THREE separate rooms in our old house, and serves us SO WELL because of how multifunctional it has become. Let's look at those three rooms from our old house…
Our Previous Home's Office:
Perhaps the most familiar-looking zone that was absorbed into our big room upstairs is our old office area. We no longer have a dedicated room like we did in our last house (seen below) but we still recreated the set-up of our Parsons desk flanked by two Ikea Fjalkinge shelves. It's a definite upgrade to have three windows along that wall now (our desk view = 100).
That Parsons desk is actually one of the items that we've had the very longest of any piece of furniture we have ever owned. It was a wedding gift to us in 2007 and it has definitely stood the test of time. I mean, it's 15 years old and counting! Still looks new, which definitely helps an item have longevity, along with a classic design that doesn't ever feel dated. Totally makes sense to me why we still have it.
When we slid it in front of that middle window, we realized we could remove the two back legs so the back of the desktop sits on the window ledge (thereby recessing about 5 more inches toward the wall, making it easier to pass behind it on your way out to the deck). Of course, we kept those back legs (who knows how things will evolve down the line), but that tweak alone made this desk even more flexible & functional than we thought.
If you scroll back up to that photo of our previous office, you'll notice the metallic cowhide rug in there now sits in our downstairs sitting room. As for why this made the move and got to stay, it's gloriously neutral, isn't huge, and works so well to ground the sitting area without a rectangular border for the front door to get caught on. Honestly, I think a rug like this could slip into any number of places – for example, it could also work in our son's room, and even upstairs by the art desk. It's the LBD of rugs.
Our Previous Home's Family Room
At first glance, our current upstairs TV area feels pretty different from our last family room (seen below). But some of the same anchor pieces are there, like our Crate & Barrel Lounge II sofa that we've had for 5 years now. And upon closer inspection of the picture below, we realized that even little things like the lamps and pink pillows are direct transfers from our old living space.
We also pulled in a lot of stuff from other areas of our last home to round out this new family room. The leather stools came from our beach house, the woven mirror came from our old office (scroll up to see it over the Parsons desk), and the side table under the mirror is actually two of our daughter's old bedside tables wedged back-to-back to make it look like one extra deep side table for our old lamp & some books.
The rug upstairs is actually from our son's old bedroom (seen below). It's a HomeGoods find we've had since it was his nursery, over 8 years now (here's something similar). It's no mystery why this rug endures for us, because it's neutral so it can slip into practically any room with any colored furnishings. We also really like the subtle yet interesting design, it's comfortable and soft, and it was the right size for our new family room.
Our Previous Home's Art Room
The last of the three zones that we squeezed into our new family room is our kids' arts & crafts space, which is a reincarnation of the homework / art room we made in our old home's guest room (seen below).
We had less wall space to work with in this new house, which we knew based on our measurements – so we donated 1 of the 3 drawer bases and swapped out the two 6ft counters for one 8ft counter (so technically it's a new top, but we just reordered the same faux marble laminate again because it has worked SO WELL for a mess-friendly space like this).
We moved the old chairs with us, but eventually replaced them with slimmer armless ones that fit better next to each other and can also be pushed in all the way without scratching the top of the arms (which happened to the old ones over time).
Little things like the lamp (here's a similar one), the pink letterboard, the gold picture frames, the basket (similar), and our printer (similar) were all things that survived the move and were easy to find a spot for. Generally, the smaller items that we truly loved and kept above all other less-loved decor-ish objects easily slipped into our smaller home. Just gotta get rid of the filler stuff you don't really love as much or use (one example is don't downsize with 12 vases, think about the 3-4 you always use and donate the rest).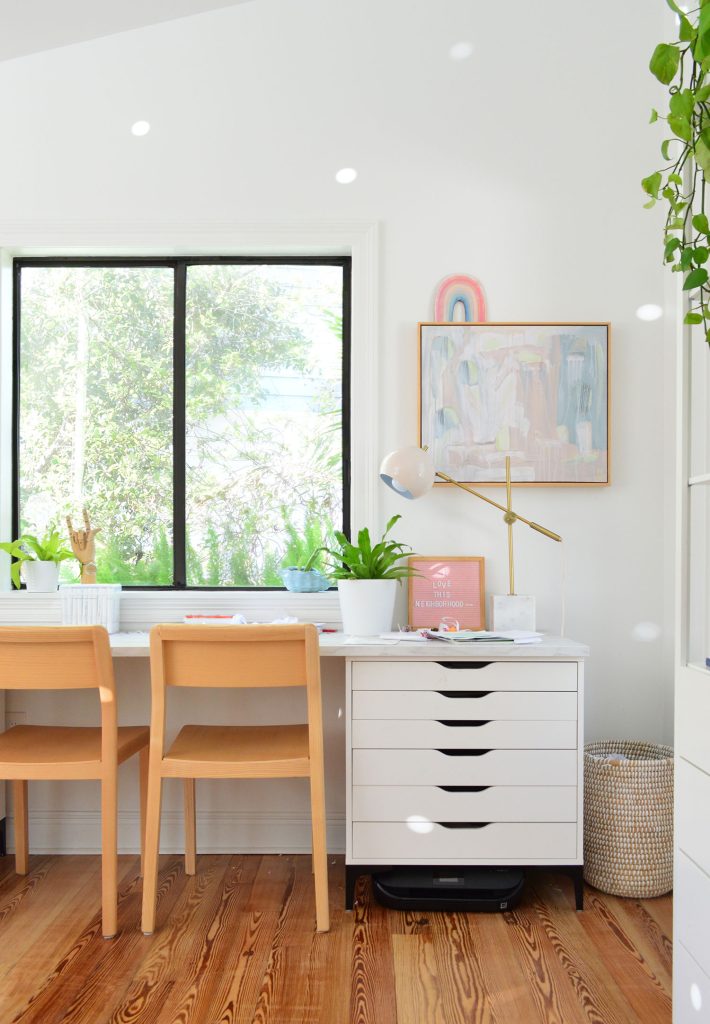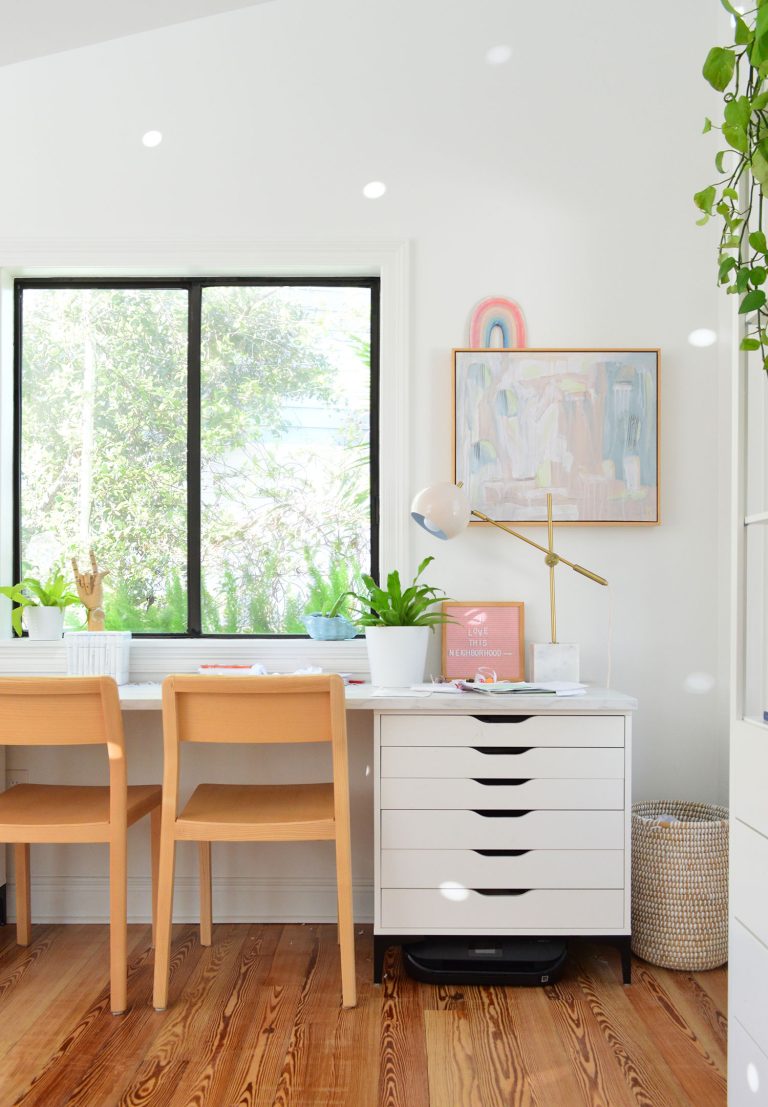 Our Outside Spaces
Our decks and porches are other places where we used some large furniture from our last house because, just like our large upstairs family room, they're pretty spacious and can handle items that originally lived in a bigger home.
For example, our current front porch (above) still sports the woven egg chair that we got in 2014 and had on our old back porch (seen below). Forgive the old photo above, couldn't resist a Burger cameo. We miss that sweet boy every day. Fun fact: the pile of dirt that you see beyond the hanging daybed is from the pool build! Memories.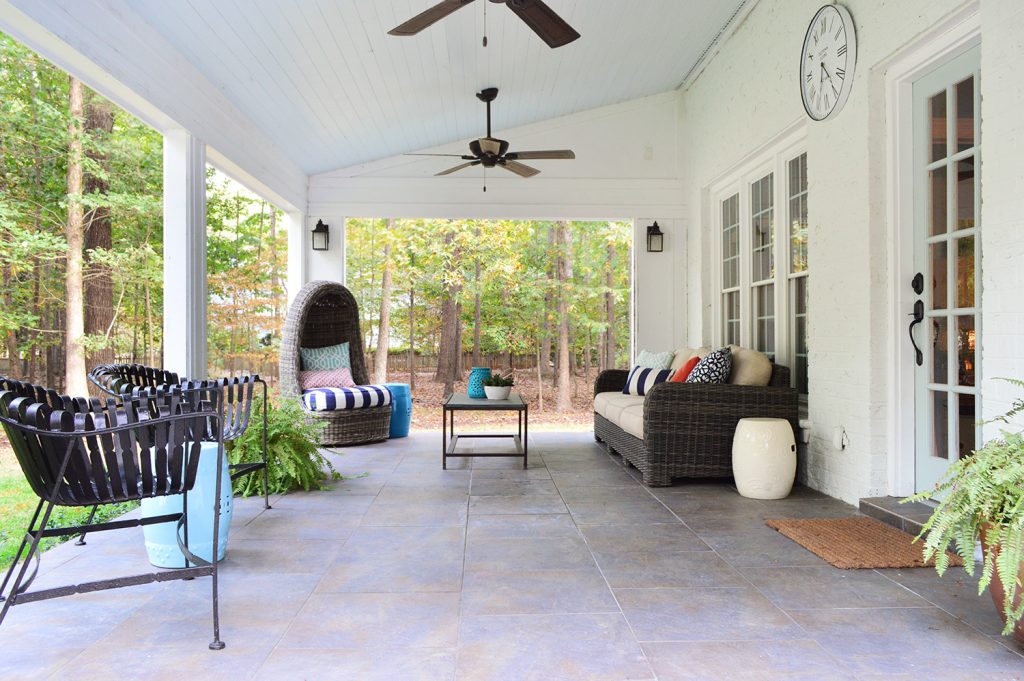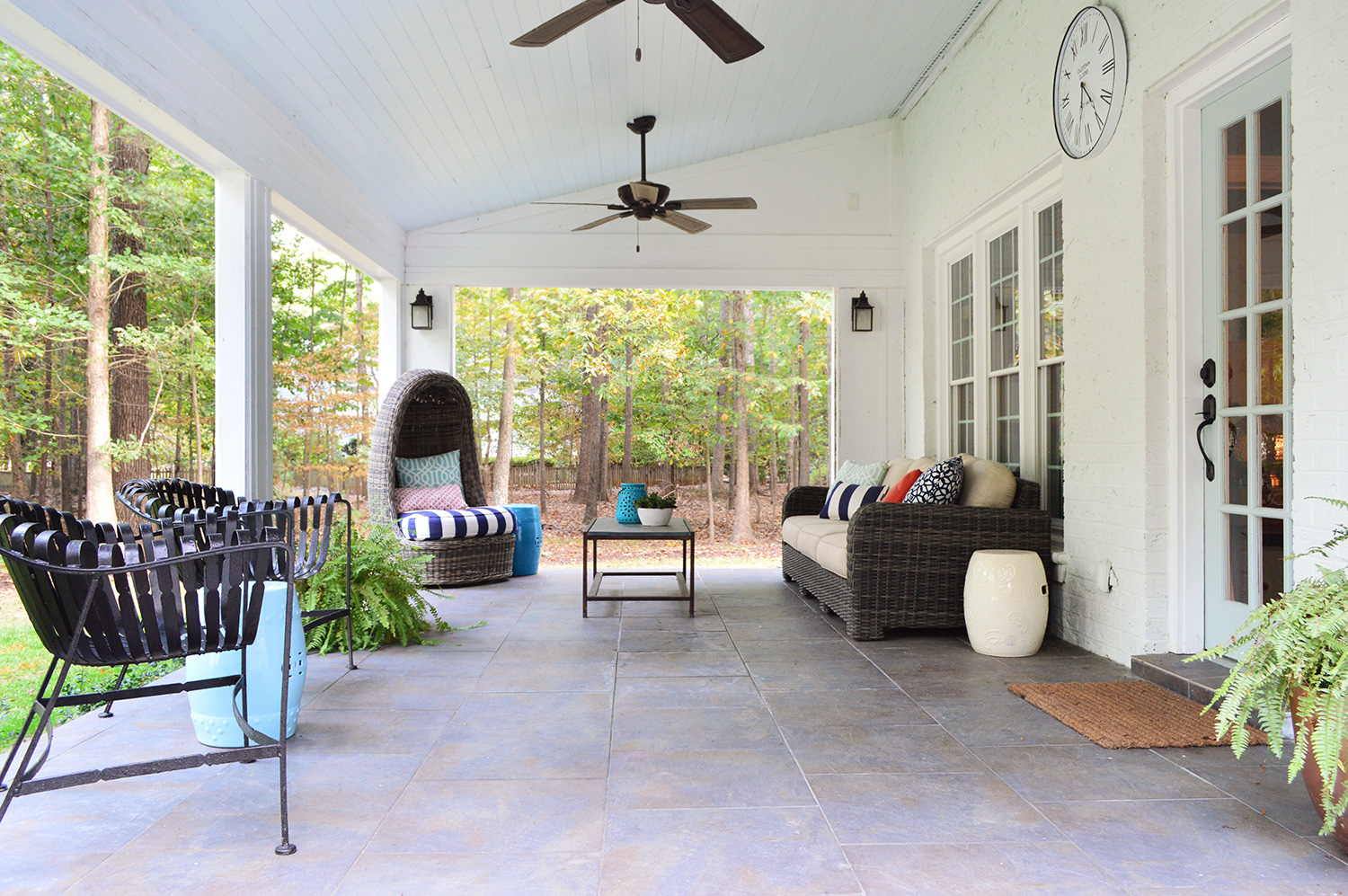 The outdoor sofa and vintage black metal chairs seen above also made the move to Florida and now both live on our upstairs deck. That space is in a bit of a "transition" since we stole the dining table to try out in our twice-as-big pool area (if you missed my IG stories about pushing that fence back about 20′, we're planning a big post about it once we're further along and the fence is painted).
But here's proof that those awesome vintage chairs and the outdoor sofa from Richmond are all alive and well here. I think we've had that blue drum stool for like 15 years too. Those can literally slip into almost any room or outdoor space!
Our Bedroom
The largest item that made it to our new bedroom is this blue inlay dresser that had been in the front bedroom at our beach house (one of my favorite secondhand finds of all time!). We sold the beach house furnished but swapped out a few things we loved beforehand – and this definitely made the list.
It now occupies a corner of our bedroom that we'd once slated to become a second bathroom. Those plans are on indefinite hold because although we expected to want a second bathroom immediately upon arrival here – we've all been just fine sharing one for the past 2.5 years. Heck, with the kids back in school it feels even easier than ever (since the first year here = at-home learning so all 4 of us were in this house pretty much nonstop).
Our bathroom-on-hold decision feels sort of like the spirit of downsizing itself. Embarking on a big dusty reno to add a bathroom feels insane to undertake until you actually want one, right? If our bathroom plans ever move forward (we assume they might when the kids are older maybe?) we've talked about converting my beloved inlay dresser into a bathroom vanity with plumbing and everything inside and a sink on top. That's how much I love it. Of course, who knows, it might end up in another spot before then.
This is where it lived in the beach house's front bedroom after I bought it secondhand and worked hard to repair it. It feels so beachy and intricate – it's something I treasure.
That's what downsizing is about. We don't have ten dressers. We have 3 in the entire house. But they're our 3 favorites of allllll time (the other two are wood inlay on the front – so they all feel so special and unique). As previously mentioned, they also all have 3 drawers and aren't of the wider 6-drawer variety, which makes the other two able to double as nightstands AND clothing storage in our daughter's room. Hooray for anything that's beautiful and can work double duty. More on that in a sec.
Oh and that large glass vase on the inlay dresser two photos up? Here it is living in our previous dining room. It has been with us over 15 years and counting! Sometimes I think it's a miracle we haven't broken it in all these years – it's often full of water and quite heavy! (I hope I didn't just jinx myself).
Other Richmond holdovers in our room are smaller items – like the lamps (here are some similar ones), the gold frames, the pouf, and the woven belly basket in the corner (a HomeGoods find from ages ago – but here's something similar).
You may remember those baskets from our old foyer (seen below), where they were largely just decorative. Yes, they usually had nothing in them except for random things the kids would put in there. Now we use the large one as a laundry basket in our bedroom and the smaller one as a trash bin next to the kids' art desk (scroll back up to see it).
And speaking of our foyer, you may recognize that mirror in 3… 2…1…
Our Bathroom
The large capiz mirror from our old foyer is now the over-the-vanity mirror in our bathroom. So not only did we hang on to it, it gets so much everyday use in our one and only bathroom (and definitely sees a lot more toothpaste splatters than it used to too). It's still holding up perfectly, and once again the key to this item sticking around is that:
A) We had the perfect spot for it
B) We love it
It beat some other more basic mirrors out because it's *special* – we love the subtle pattern and the cool shape of the top. Overall, so glad we bought this (about 10 years ago from Serena & Lily), and I hope we have it forever & ever, amen.
The bathroom also sports gold frames and artwork that used to hang in our last house, plus a brass mobile is something we hung in the middle bedroom at our beach house and I've loved it ever since. If you're wondering: do I take a mobile? Is that too random if I'm trying to downsize? I'd say… it's tiny. If you love it, take it and see how it goes. We also took a second mobile with us (a seagull mobile we had in the duplex and that hangs in this house too!). We have since bought 2 other mobiles for a total of 4 in our six-room house. No regrets. Take what you love – especially if it's small. The mobile isn't going to make or break the pod or the moving truck 😉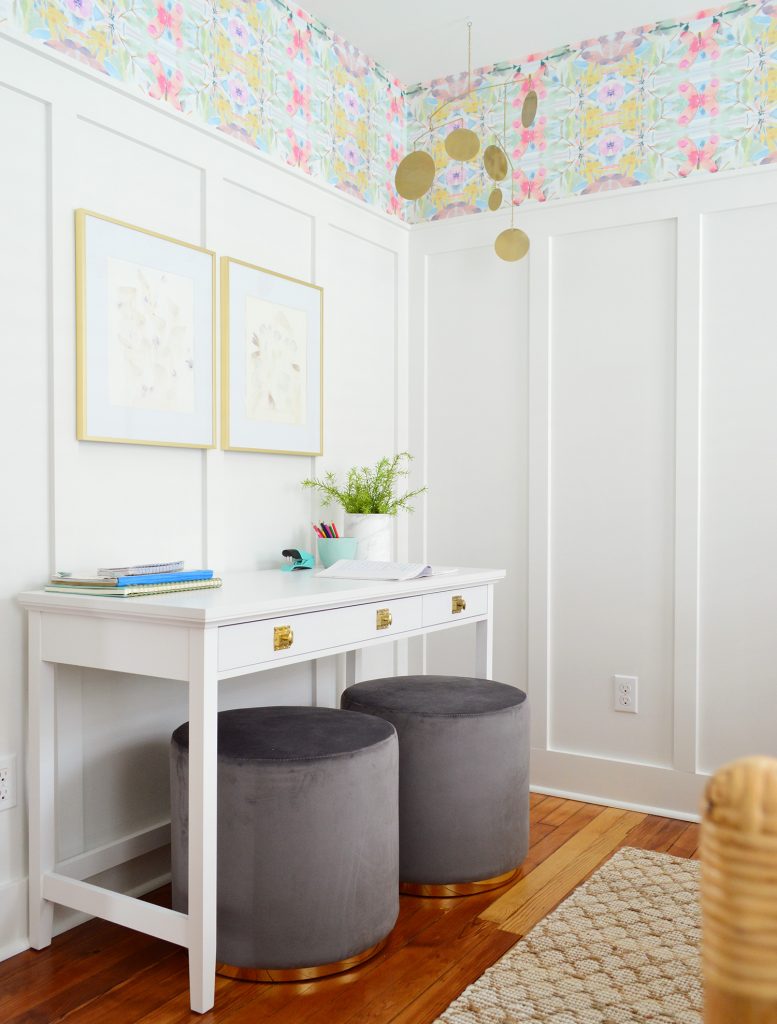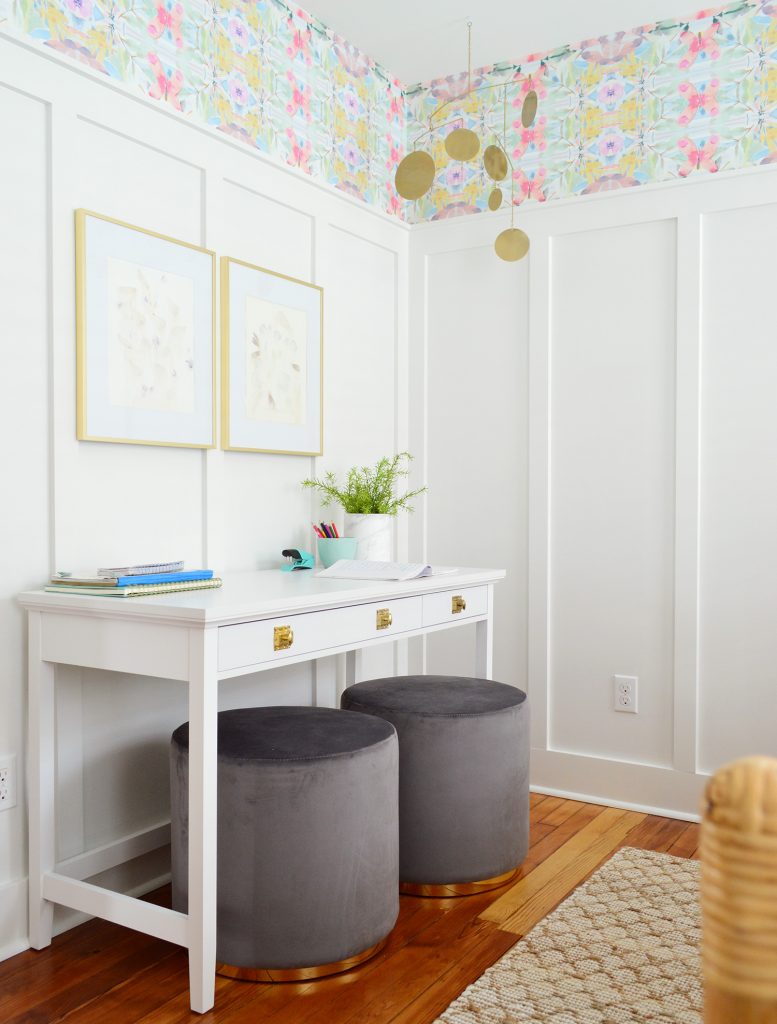 The Kids' Rooms
In addition to bringing things like our kids' favorite books, toys, and stuffed animals, their rooms also have larger things from our last house like the big gold mirror in our daughter's room below (it used to hang above the fireplace in our living room – scroll up to see it). It's especially great above this desk because that whole area doubles as a vanity spot for her to get ready, but also multitasks as a desk for homework, laptop use, etc.
The inlay dresser you see reflected in the mirror above is also a holdover from our last house. We've had it awhile and it's served various functions over the years, including about seven years spent being the only attractive thing about our walk-in closet before we made it over.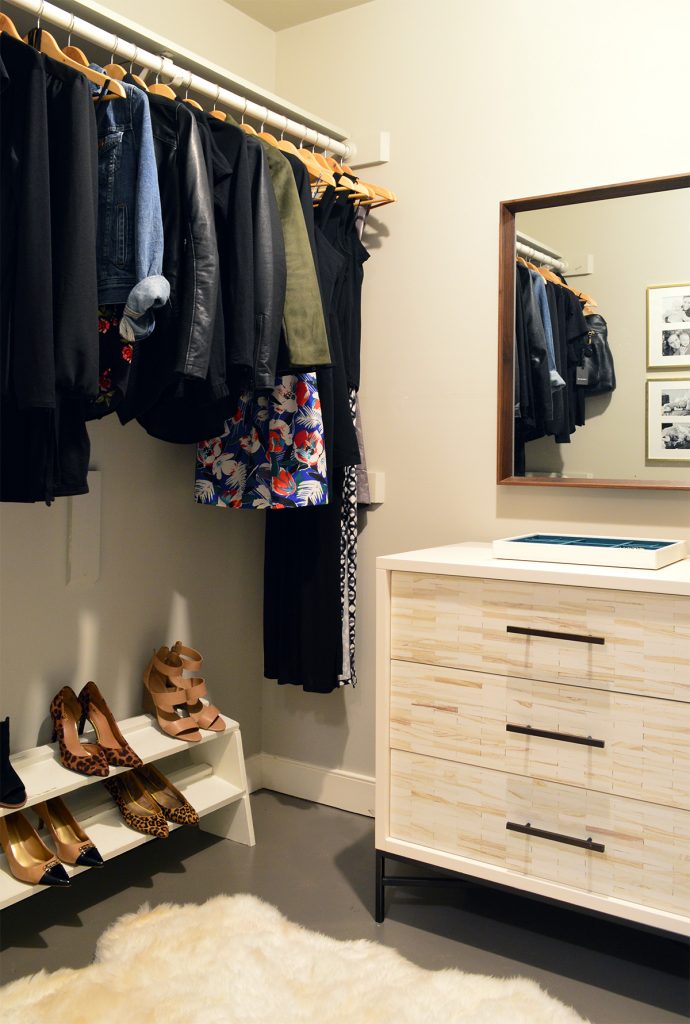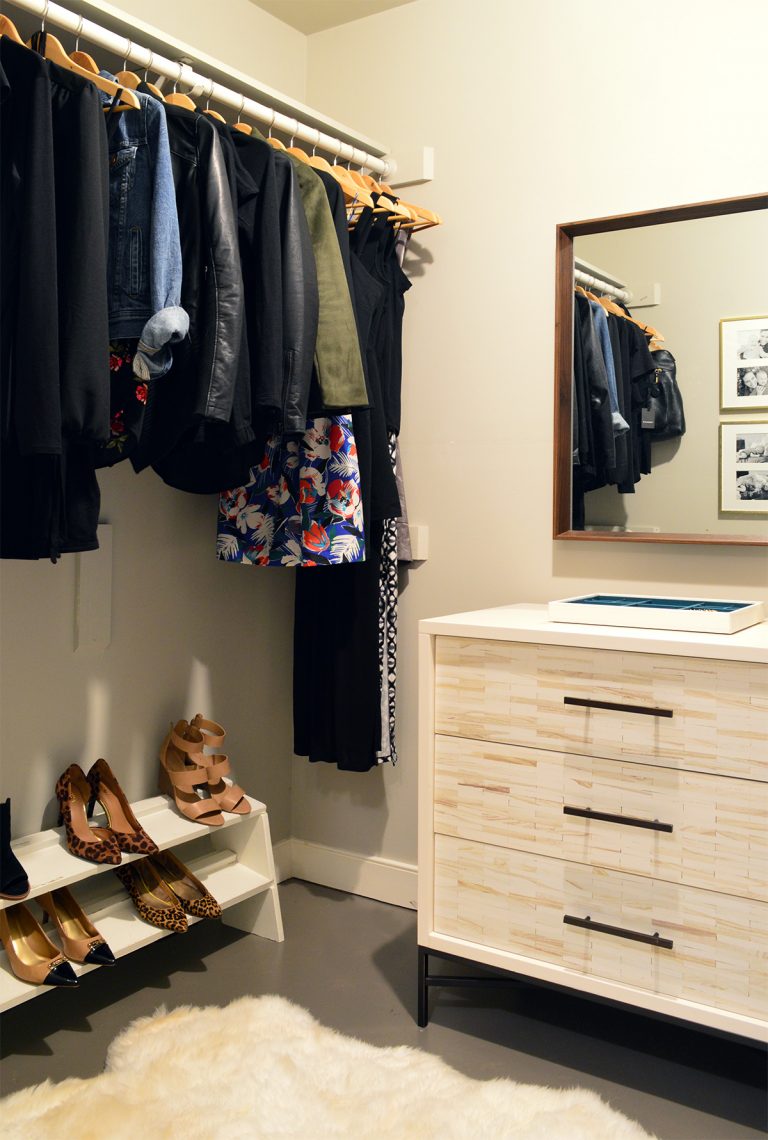 Not only did we bring that dresser from Richmond to Florida, we actually ordered another one shortly after moving because we love the idea of making them work double duty as bedside tables AND clothing storage. During this brief incarnation of our bedroom, they served as matching nightstands and worked as our only clothing storage in the room.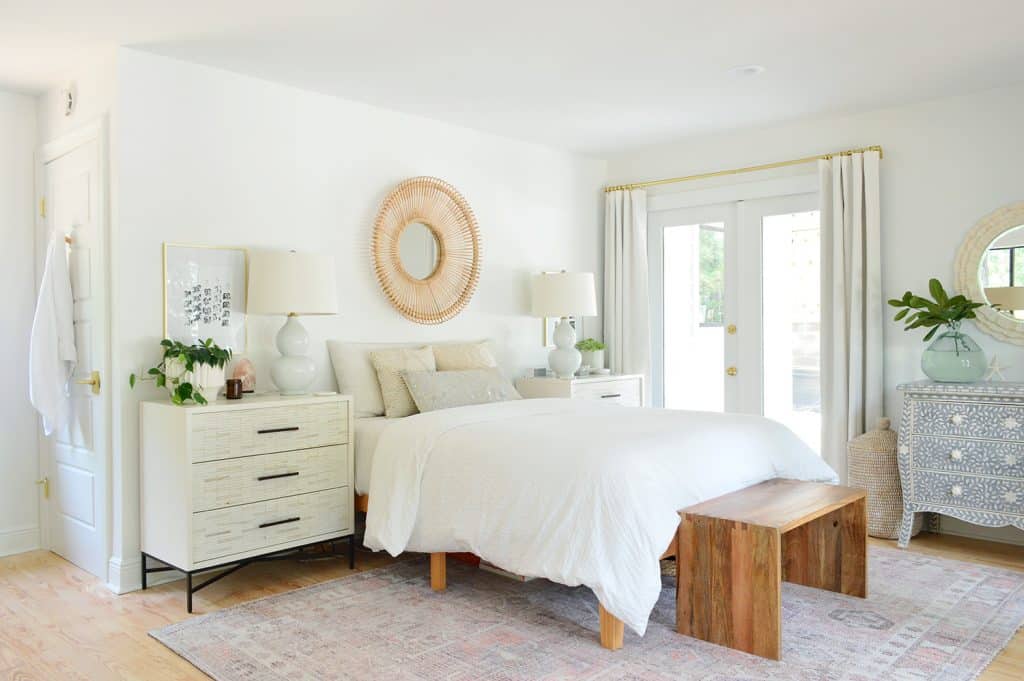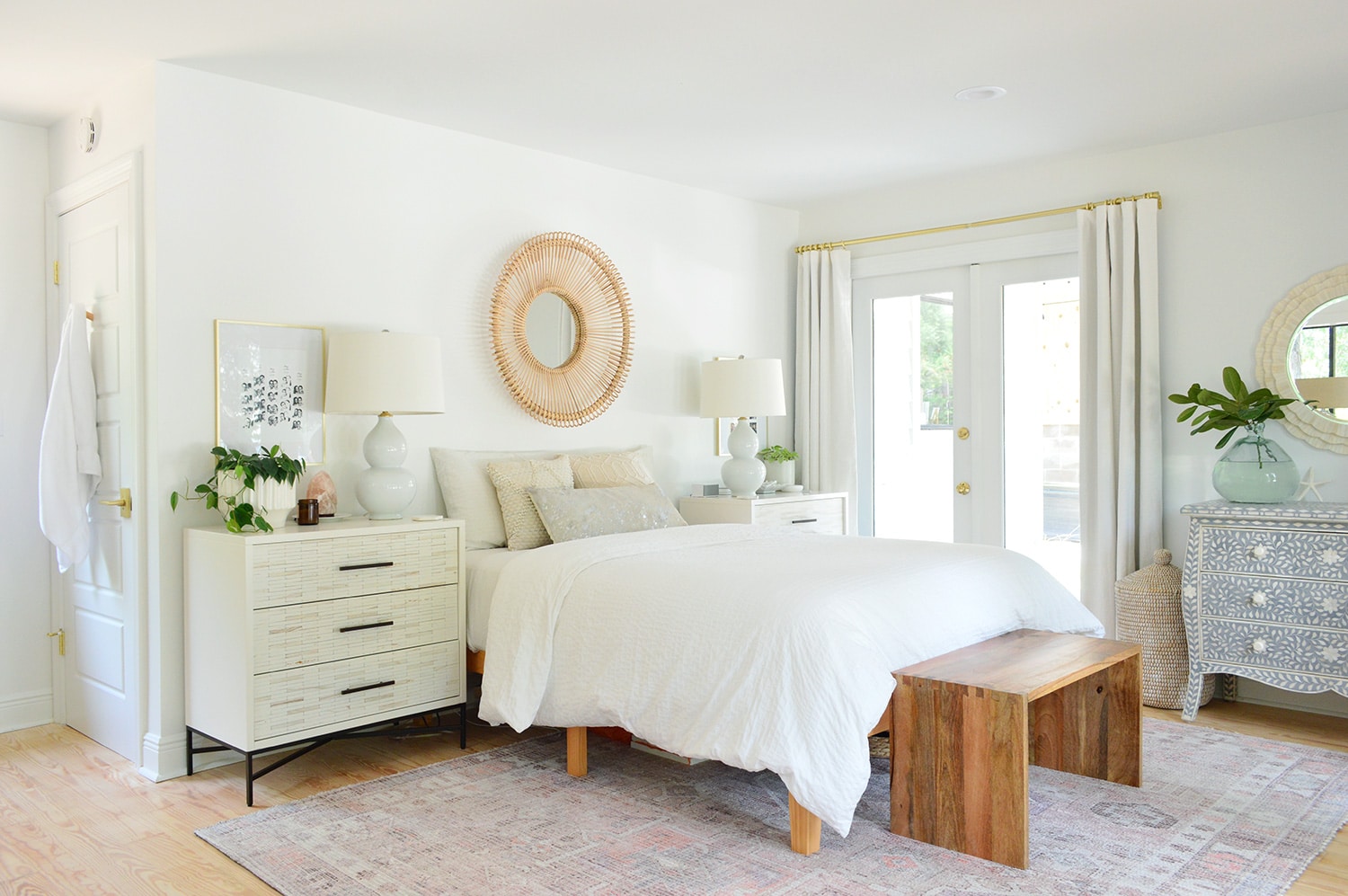 Once we finally added closets to our room (this is an old pic but you get the idea)…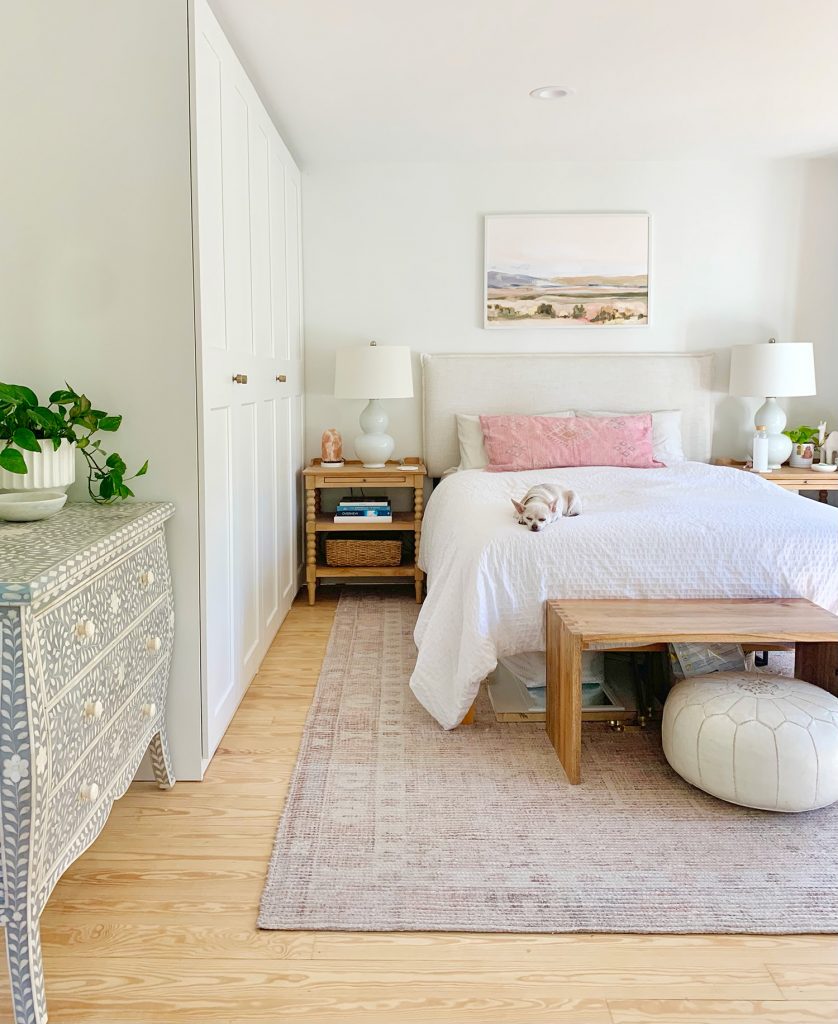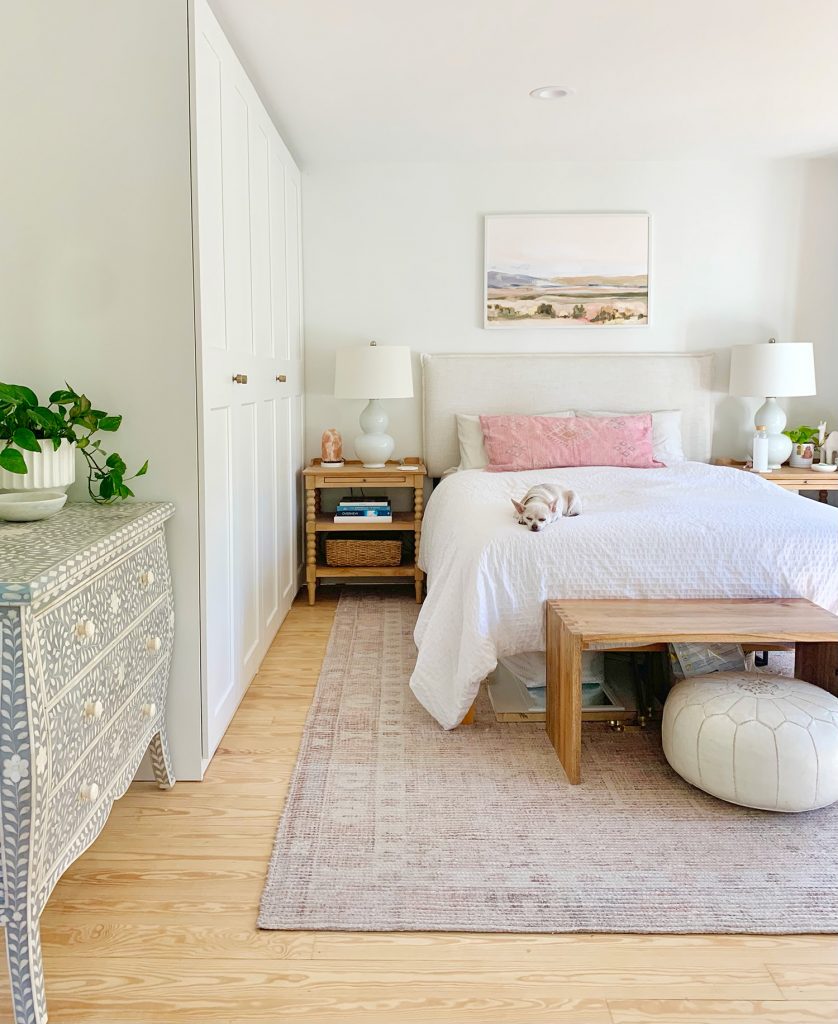 … we moved them both to flank our daughter's bed – where they work as clothing storage for her as well as and bedside tables. We removed the black metal feet so they're a nice height for her bed, but we've got the legs stored in our utility closet just in case. They're hanging out in there with the back legs of the upstairs desk 😉
Our son's room got a lot of built-in small space solutions – like a floating desk and bookshelf that we made ourselves (both of which you can see here), which feels kind of fitting since we built a lot of stuff into his last bedroom too. His rug is actually from our kids' old art room, which you can scroll back up to see, and a lot of his pillows, baskets, frames, & planters/plants are from our last house too.
Of course, the majority of the small functional items we have are the same ones that we had in Richmond (like our silverware, plates, pots, pans, toaster, tools, etc) and the photos and rundown above pretty much cover the furniture/decor in the main spaces. There are a bunch of other items in random places like hallways – like the marble table below and pink rug that came from our old closet, but I don't want to bore you with the minutiae of every vase or picture frame. Instead, let's attempt to break down what this exercise made us realize about the downsizing process itself.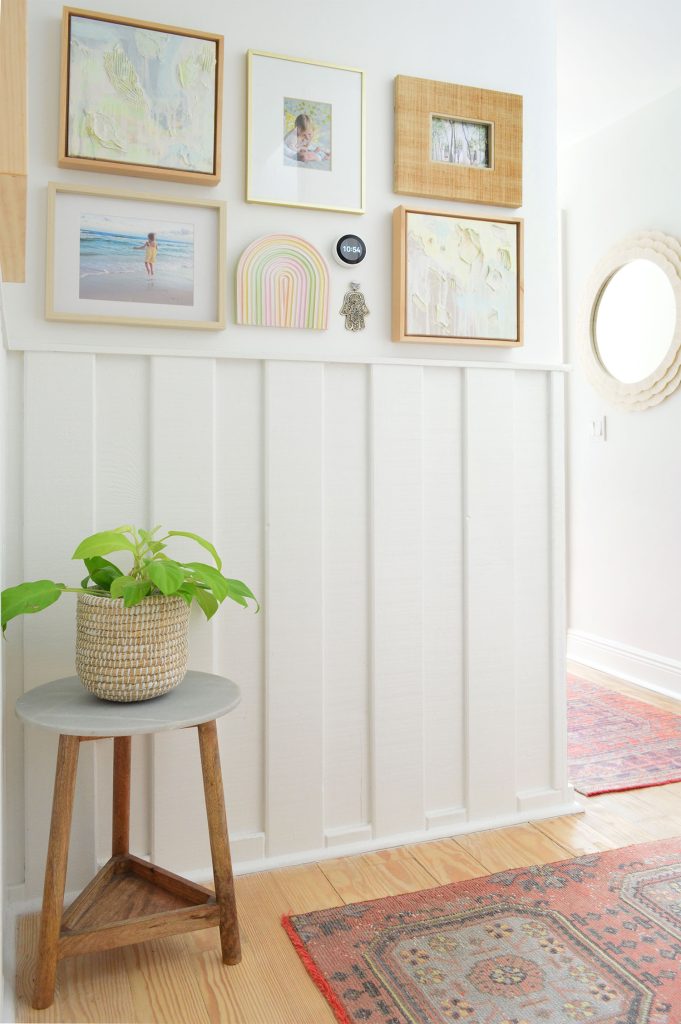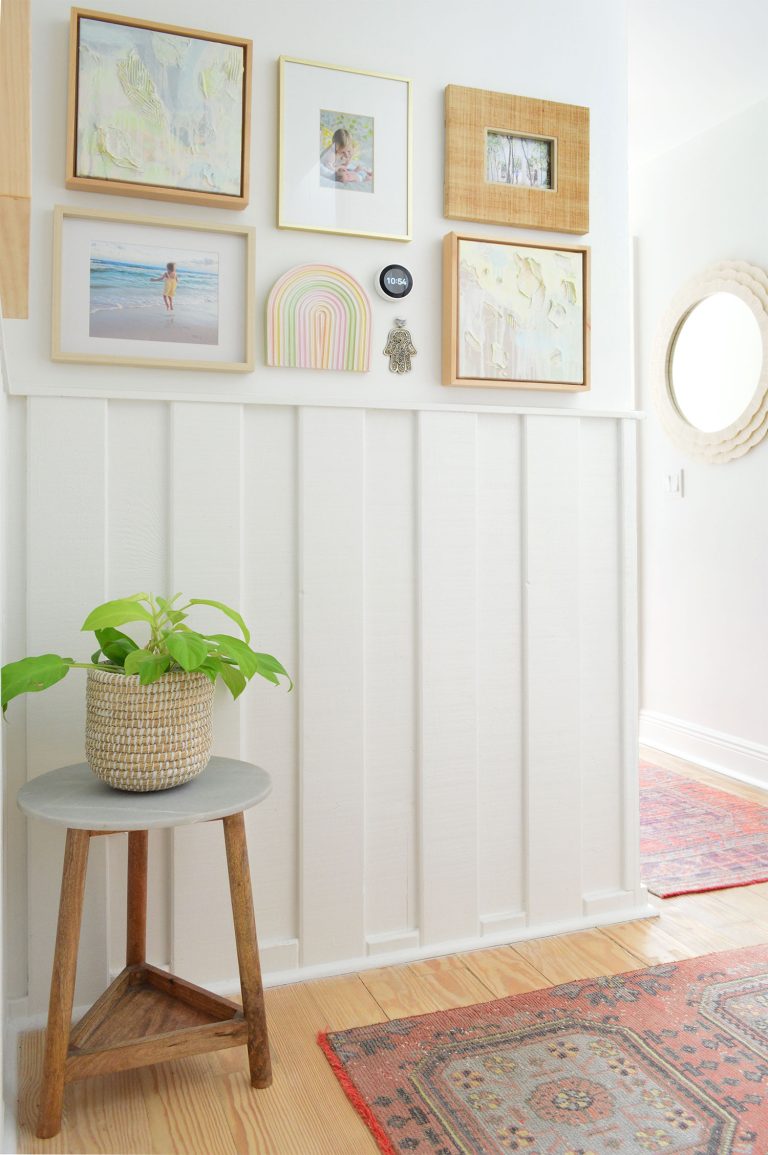 What We Learned About Packing For A Move / Downsizing
1. Know The Big Spaces That Need Big Pieces
In retrospect, we wasted some space in our pod on a few big items that we didn't end up having big spaces for in our new house (like those two aforementioned 6-drawer dressers). They were useful to us in the short term right after moving, but we've since sold/donated them. Looking back, I wish we had made more room the pod for extra outdoor furniture (maybe even some from the beach house backyard, shown below) because we have an abundance of porches & patios we've had to furnish here.
2. Hang Onto The Little Things You Love
If you have limited moving space, like we did with our pod, you might be tempted to foresake the little things like art, lamps, decorative objects, etc in favor of adding more big objects that could theoretically be more expensive to replace. But we're glad we stuffed every last corner of the pod with the "small stuff" that had meaning or sentimental value (including the living plants we literally wedged between our kids' car seats for the drive down). Favorite framed photos, lamps, and potted plants were easy for us to work into our new home, and they were a nice fast way to make the new house feel like "us" right away.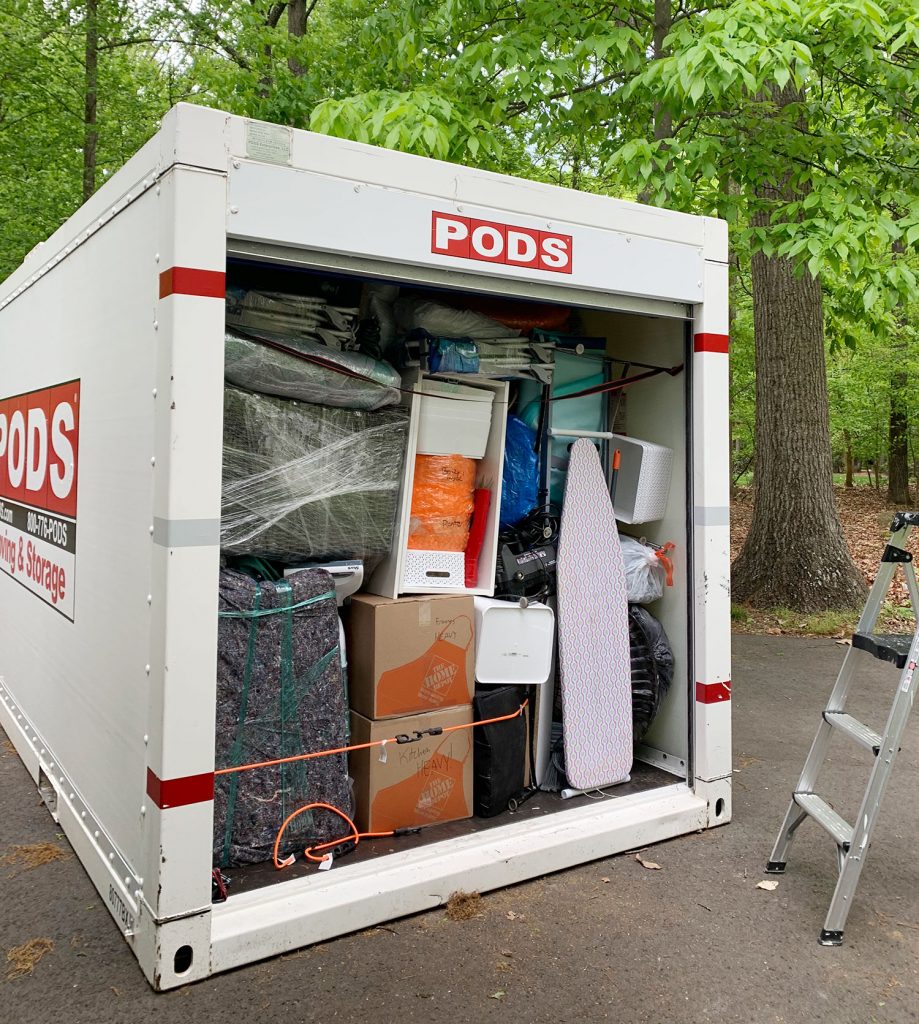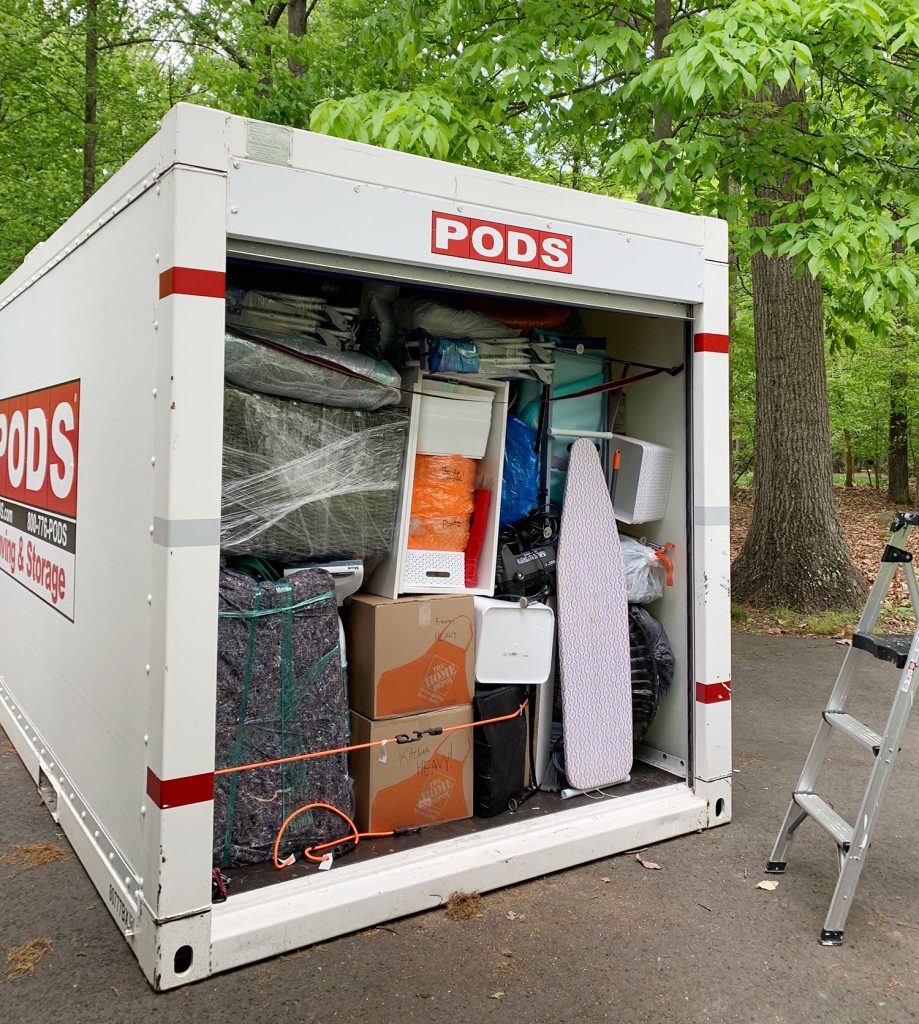 In the end, if it's small and it'll fit, just bring it along with you and donate or sell it at the new place instead of wishing you didn't let go of that sweet art or mobile or lamp you loved. Note: this does not mean you should bring a single small item you feel meh about – this just applies to things you LOVE and items with sentimental value. Being discerning *before* you leave the old place makes landing and unpacking so much easier – so get rid of the excess "filler stuff" before you pack for sure!
3. Stay Flexible & Embrace The Evolution
As you can tell, we haven't been rigid about things going in a certain room (or serving a certain function) just because they were used in a specific way in our previous house. For example, the white shelf below was a decorative shelf in our beach house living room, and now it's functional kitchen storage for us here. Had we been stricter about where things went or what purposes we thought they had to serve, I think far less stuff would've survived the move and we would've had to purchase a lot more.
4. It Pays To Think Cohesively
I think most people tend to do this naturally, but keeping a similar style or "vibe" in mind for your house makes that flexibility thing much easier. You'll have more options for where to put furniture and decor if a certain piece or room isn't an aesthetic curveball compared to the rest of your house. That's how we've been able to move dressers, rugs, mirrors, artwork, etc. around this house until we've found the right spot. Basically everything we have "goes" with everything else in our house.
One way we helped that happen was back when we packed the pod, we made sure the items we wanted to keep felt like they worked together. We made a decision to leave all of our huge, thick, deep-colored rugs behind, not only because they wouldn't fit physically in many of our rooms, but they didn't fit into what we envisioned for our light & airy place by the beach (or seem particularly sand friendly). Same with dark wood furnishings/decor – many things we loved the most were:
light wood
white
neutral
inlay
capiz
brass
marble
soft pink
light blue
pastel art
a buttload of plants
Look for a pattern & lean into bringing things that work well together! Note: don't bring a single thing that works with everything else but is something you're lukewarm about or never use. Trust me. Downsizing = being ruthless and leaving all that "filler stuff" behind (if it's not your favorite you'll end up storing it all the time & then it's just completely unused cabinet clutter).
5. Be Patient!
Downsizing is definitely a journey and not a destination. It has taken years for our current house to come together, just like every other house we've ever owned. And for a LONG time, it looked kinda nutty as we figured out what worked where and what wasn't working at all – just like every other house we've ever owned. Are you sensing a theme? Don't beat yourself up about taking your time to find the optimal arrangement or the right pieces to make your house work best for your family. It's often the only way to get the very best result.
I'm thankful that overall, we don't really have any major regrets about things we brought or chose not to bring – likely because we really tried to rely on taking *only* the thing things that we love most and use a lot (and pretty ruthlessly cutting out the rest). It really can be that simple. It takes a lot of physical time to sort through it all – but that line of thinking is what we kept asking ourselves over and over again. And we're glad we gave ourselves the time to figure things out when we landed in our smaller place and didn't stress when, for instance, our bedroom looked like this for a few months. Ha!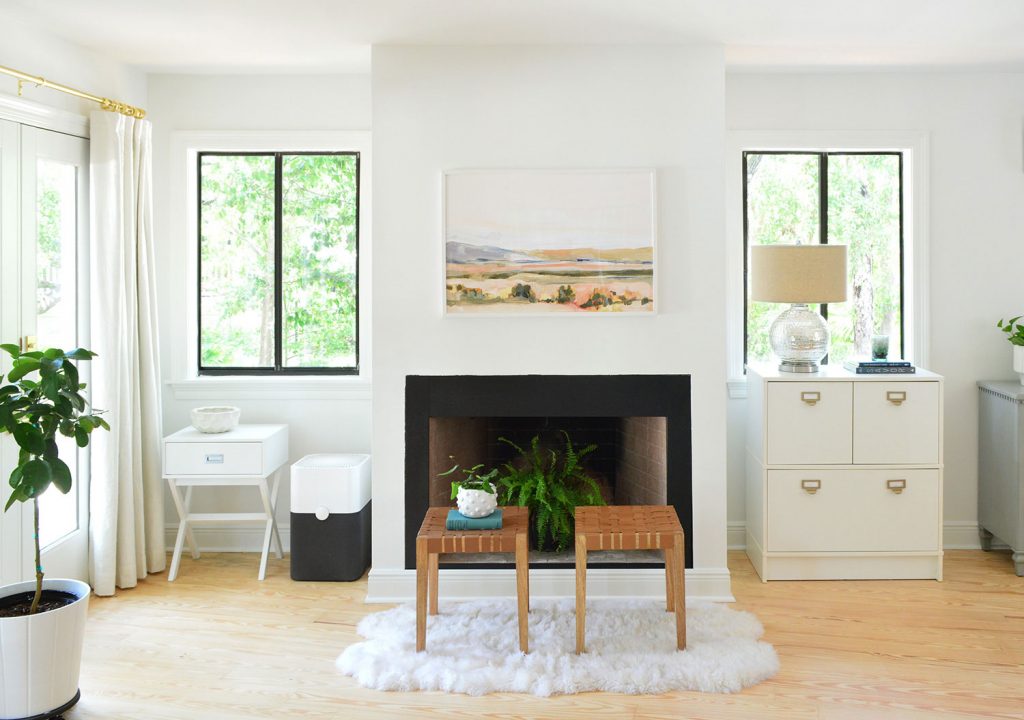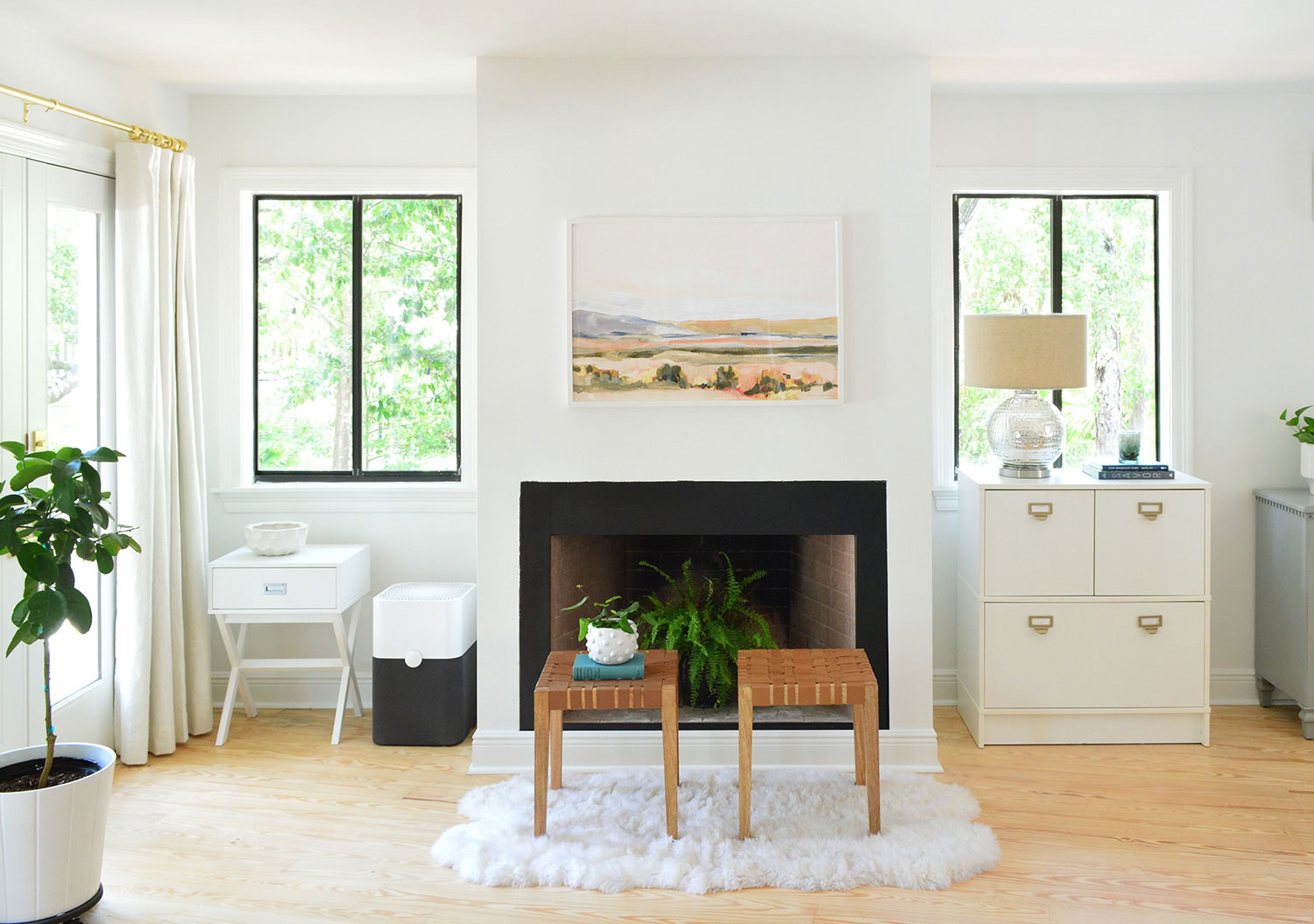 Oh, and one MVP of the move has turned out to be the most random thing: our white Ikea planters (you can see one in the picture above and another in the shot below). They've been such good staples over the years and we've had many of them since our first house. Yes, that makes them 15 years old! Again, it's a miracle we haven't broken them yet! (*knocks on wood immediately*)
I'll leave you with one last thought. I think people who face the idea of downsizing are tormented by the idea of "what if I downsize this thing and then I really want it later" – especially as it pertains to something like a kitchen gadget. For example: "I never use the crockpot now… but what if later I get into it and have to buy one again?" Honestly, we had an old cobweb-covered crockpot that we never used so we donated it before this move and it has been 2.5 years and we DO NOT MISS IT. If you do, you can always buy something like that. But imagine how much more space you'll have in your cabinets if you just have things you use in them.
Our actual experience is that we really can't even remember, let alone list, a lot of things that we downsized and donated. If we didn't use them presently in life at the time of our downsizing, that was the answer. Donate/sell pile. Heck, that works for if you aren't moving too, and just want some wiggle room in an overstuffed drawer or cabinet.
I bet 10 out of 10 people who have majorly downsized will tell you the same thing. We don't even remember what used to fill up our garage (don't have one now!) or our giant walk-up attic. Ok, I know there were a lot of baskets up there – which was a sure sign that I wasn't using them – but I never miss having a huge space to fill with stuff I'll forget about for years on end!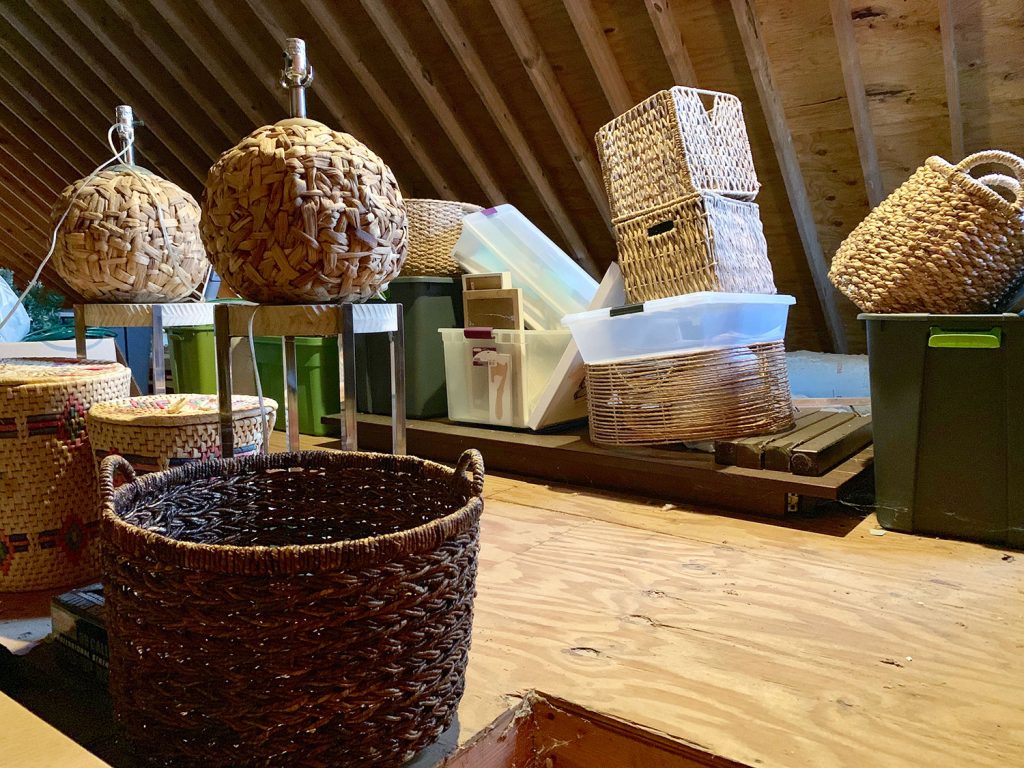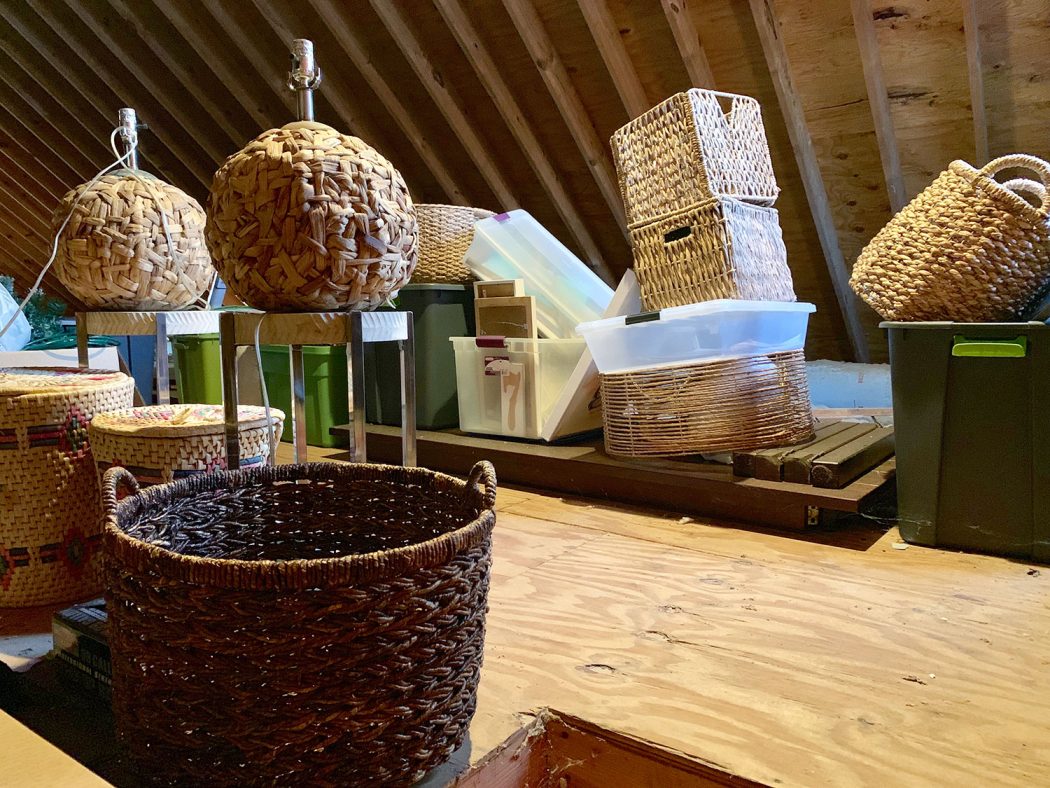 I hope this big brain dump of a post is helpful or at least just fun to read and reminisce with us. We definitely loved looking back on everything that has made this big journey with us, and are so grateful for where we are in this moment – in a smaller house with plenty of beach & pool time (oh the perks of no yard to mow, no garage to organize, and only 5 rooms and 1 bathroom to clean!).
If you'd like to read more about our entire downsizing journey…
*This post contains affiliate links, so we may earn a small commission when you make a purchase through links on our site at no additional cost to you.
More posts from Young House Love